-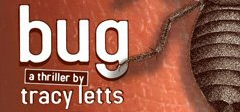 BUG centers on Agnes, a lonely, middle-aged waitress victimized by her abusive ex-husband, and tortured by the kidnapping of her child in a supermarket almost ten years ago. After spiraling into a world of alcohol, cocaine, and seedy motel rooms, Peter a timid Gulf War veteran and drifter in search of a friend wanders into her life. As their interest in each other grows, so does their paranoid obsession with understanding what –or who – brought them together. Did we mention the infestation of bugs?
Director Bob Pridham added, "Playwright Tracy Letts gives us plays which fire on multiple cylinders and demand white-knuckle commitment from the actors, and BUG is no exception. Funny, rude, violent and appalling, this is a play which sends audiences and performers on a wild ride into a carnival darkhouse where almost nothing is what it seems to be. Few plays I know better capture the interlocked pathologies of fear, suspicion and reactionary madness which seem to be clogging the American airwaves these days. I'm reminded of the punchline to an old joke: 'I may be paranoid, but at least I know what's real.' Not to be outdone, Letts pushes us one step further: 'What don't you know?'"
This play is shocking, raw and fun in its insanity.
Photo Gallery (13)
(Tap/Click)