Seeking Directors for our 2022-2023 Season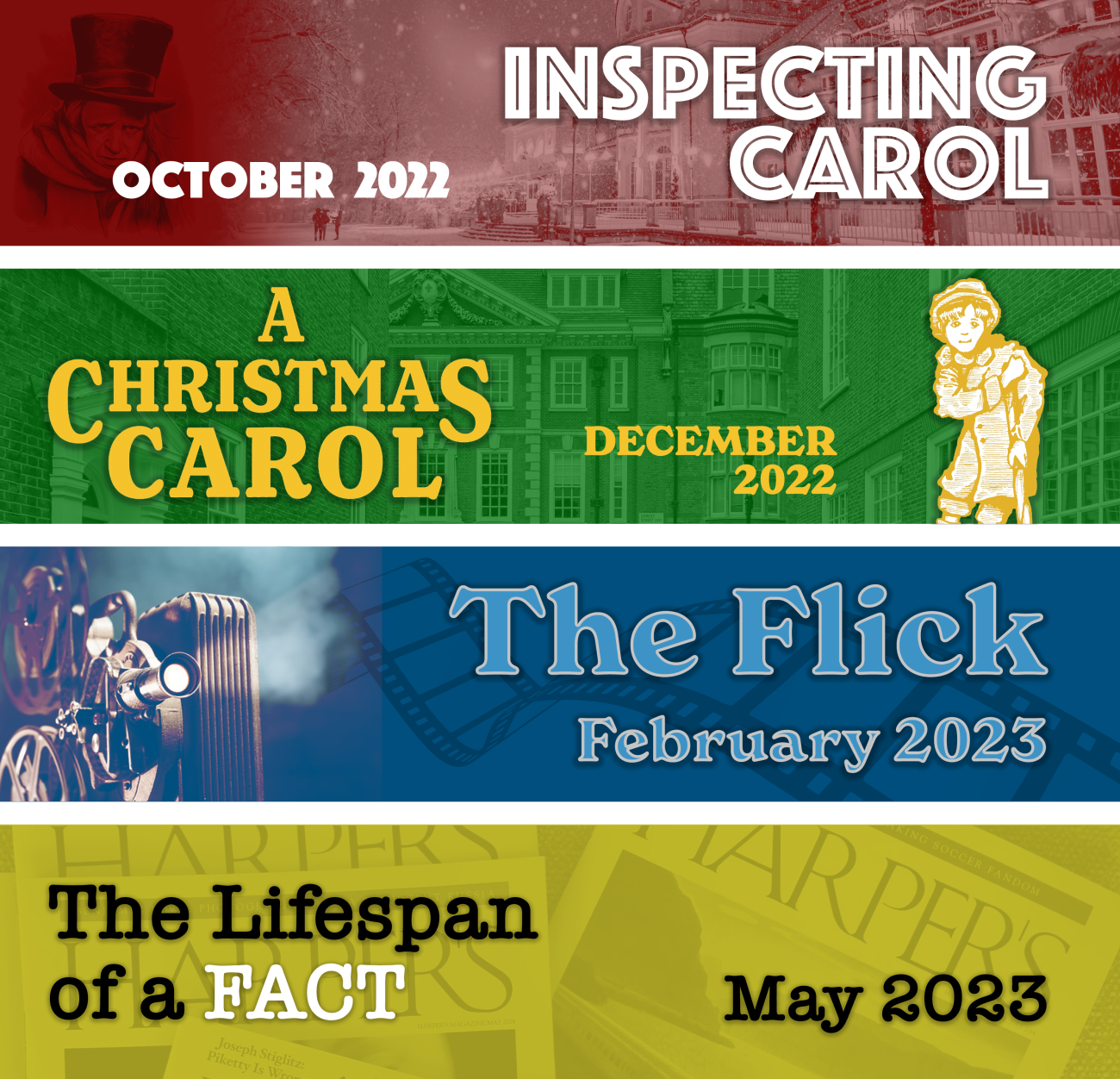 Wed, May 11, 2022
Exciting Opportunities Await! The Chatham Community Players is looking for directors for its upcoming 2022-2023 season.  This season, CCP is looking for directors for its mainstage productions AND for its newest offering, "One Weekend Only" (OWO), an annual slate of productions, staged for just one weekend each, to complement our mainstage season.
MAINSTAGE
The mainstage productions that have open positions are "Inspecting Carol" by Daniel J Sullivan, The Flick" by Annie Baker, and "The Lifespan of a Fact" by Jim Fingal and John D'Agata. Directors interested in interviewing for one of these plays, either in person or virtually, should send an email request to president@chathamplayers.org.
Submissions and/or requests should be made by June 15, 2022 for interviews to be scheduled in late June. Interested directors should take note below of the comments of our play selection committee when considering proposals and concepts for how they would obtain their vision.
INSPECTING CAROL:
A Christmas Carol meets The Government Inspector meets Noises Off in this hilarious hit from Seattle. A man who asks to audition at a small theater is mistaken for an informer for the National Endowment for the Arts. Everyone caters to the bewildered wannabe actor, and he is given a role in the current production, A Christmas Carol. Everything goes wrong and hilarity is piled upon hilarity. Perfect anytime, this delight is particularly appropriate at Christmas.
Looking for a director with a strong comedic background. We intend to incorporate our "A Christmas Carol" set with small tweaks to ease the burden of the middle show. 
THE FLICK:
In a run-down movie theater in central Massachusetts, three underpaid employees mop the floors and attend to one of the last 35mm film projectors in the state. Their tiny battles and not-so-tiny heartbreaks play out in the empty aisles, becoming more gripping than the lackluster, second-run movies on screen. With keen insight and a finely tuned comic eye, The Flick is a hilarious and heart-rending cry for authenticity in a fast-changing world.
A director who can see comedy in the ordinary. The play requires a director to be comfortable with uncomfortably long silences on stage. It is crucial to telling this story. The set is straight forward. It is the acting and directing that will make or break this piece.
THE LIFESPAN OF A FACT:
THE STORY: Jim Fingal is a fresh-out-of-Harvard fact checker for a prominent but sinking New York magazine. John D'Agata is a talented writer with a transcendent essay about the suicide of a teenage boy—an essay that could save the magazine from collapse. When Jim is assigned to fact check D'Agata's essay, the two come head-to-head in a comedic yet gripping battle over facts versus truth.
Looking for a director whose concept includes a minimal set - at least for the office etc. Once in Vegas, the play could move to reality, but it would be nice to use the space without it being a proscenium. Three hander requiring strong commitment from actors and directors. Table work would help this piece along. 
ONE WEEKEND ONLY
One Weekend Only (OWO) is The Chatham Community Players' (CCP) newest offering - an annual slate of productions, staged for just one weekend each, to complement our mainstage season. We are eager to hear from directors excited to capitalize on one of Chatham's most unique selling points - our black box three-quarter thrust. OWO shows must be blocked for performance only on the deck of the theater, should require no set build, and should rely only on minimal furniture pieces. This is the kind of bare bones theatre we love doing - and our attempt to mount small cast shows (no more than four actors) that might not normally be staged.
You'll need to commit to either March 23-26, 2023 or June 8-11, 2023.  Most importantly - we're looking for directors who want to stage something unusual. There's more information in the attached PDF, and we are happy to field questions at oneweekendonly@chathamplayers.org. Interested in submitting?  Here's how:
Photo Gallery (5)
(Tap/Click for Next)